Today I decided to bring the Pig to work. Ryan works nights, so does not get back before I leave on Monday mornings. Usually, I leave the Pig in bed and he quite happily nods back off to sleep, however this morning he was up and willing to leave so I took him with me.
He made the rounds and warmed the hearts of most of my co-workers (Elona I believe could have done without his heavy breathing and general shenanigans!). He spent a good portion of his day vacuuming crumbs off the floor and taking naps (sigh!).
Then it was out to dinner with Rachel who is in town from NYC. I managed to see her last month at Hana's graduation, but only for a wee bit so it was really nice to catch up over dinner. We walked over to Larchmont (do you see a pattern forming here?) and ate at this great Italian restaurant called Bottega.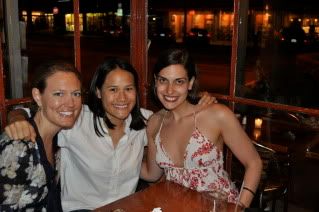 Afterwards, I had promised to go out as my friend Tom's wing-woman. He had promised to get me home by midnight, as I was really not in the mood to party like a rock star. Rachel and her friend decided to join as I think that they were intrigued as to the vague nature of what Tom had invited us too...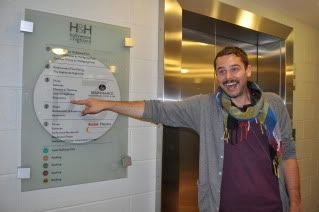 What originally started off as "Hey, my friend who is a singer is performing at the Avalon tonight", ended up being more along the lines of "My friend is at this super gay club and will perform a single number with 50 back up dancers and we will dance to Beyonce but then stop when we realize that the sea of homosexual men are all better dancers than us and know all the moves to "All The Single Ladies"" - AMAZING!
Somehow, as time progressed, it seemed like a mighty fine idea to all get tattoo's. I went with a snake, Rachel with a scull and swords, Rachel's friend with a bulldog and Tom with a semi-naked lady. Would have been acceptable to simply call it a night there, but unfortunately Tom's friend did not go on until almost midnight, so we had plenty more time to kill... This lead to my mustache (yes mustache) and Tom's Tiger on his chest!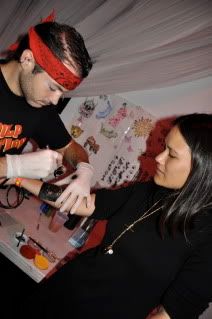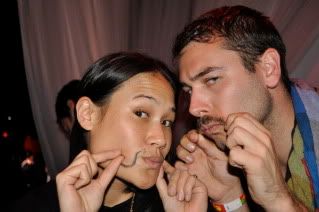 Needless to say we had a grand (or should I say "gay") old time!