Unfortunately my life as a rock star was short lived as I almost passed out from exhaustion at work yesterday (lame but true).
Luckily, the troops are already in the UK, meaning that I was able to have a fairly easy day at work and also managed to leave before the sun went down. This meant that Ryan and I took advantage of the time we had together and the weather (he he I just rhymed) and took a stroll to... LARCHMONT!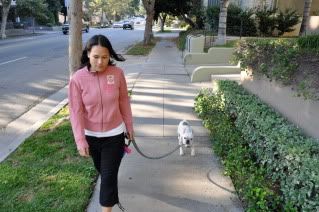 I had to pick up a few travel items at Rite Aid, and then afterwards we decided to stop and have some ice cream (yum!). Ryan took some funny photos from the Pigs point of view...
This is the Pig patiently looking through the door at me purchasing the ice cream!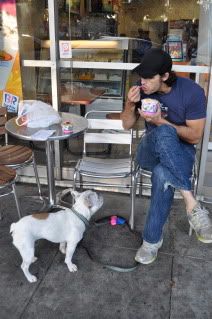 On the way home we found these really beautiful trees with tiny white flowers. When you shook the branches it was as though we were in a snow blizzard! Little Pig was confused and then slightly scared...
Sadly that is all the exciting news to report!
On a completely different note, I have been looking for a low credenza to go at the bottom of the newly hung painting. During my googling, I came across this great store called BDDW (www.bddw.com) where I am totally in love and lust with most of their pieces.
The one that I shall purchase as soon as I sell enough blood platelets (or as soon as I get my first paid directing gig) is the 72 inch round mirror that is wrapped in leather...
Coming it at $7500 I actually don't think that it is THAT crazy to dream about owning some day??!!
Here are some of their other pieces that I think are beautiful...