Yesterday Bob, Pam, Carlo and I went in on some lottery tickets. The UK jackpot is currently at £7,000,000 and unlike the US, you don't have to pay taxes on what you win! We all had delusions of grandeur (perhaps mine were grander and more deluded than the others) that we were going to win.
Sadly, this was not the case - Uukk!
Anyhow, despite our non winning lottery ticket, we were soon in a cheerful mood as we are convinced that we will win Saturdays (isn't this how unhealthy gambling habits start?) - wish us luck!
For those regular readers who check in to see the priceless newspaper headings - this is for you...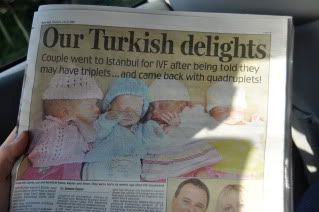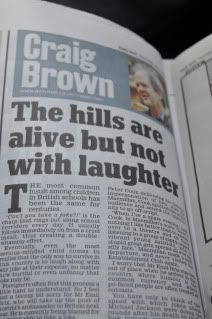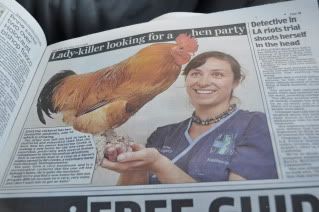 So last night, after inspecting my craters, mole and incoming beard I decided that perhaps it was time for "Spaya" (aka Spa Aya). I have been eyeing the ocean sized bath tub and ever expanding pimple farm on my forehead and thus decided to have a bubble bath and mud mask. I don't think that I have ever had the pleasure of soaking in such a lovely tub - it was most delightful, and although my pimple farm as not been evicted from my forehead yet, I still think that "Spaya" was a great success.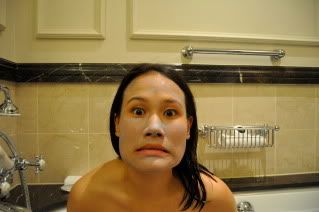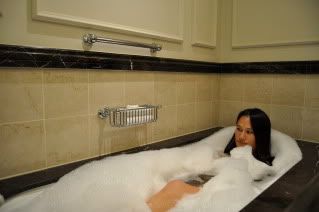 At work, it was a little slow for me. I did however fix the flange focal length on the new digital camera and thus solved the auto-focus issue we were having with it - yay me!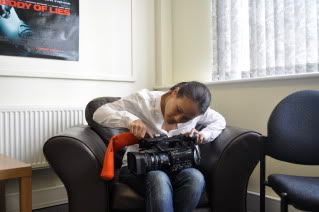 And even though we only have 2 more days left in London, I also printed and posted photos of my 2 favorite people - Ryan and Little Pig so that I can look over and smile! I miss them both very much, but I worry about the Pig as I cannot explain to him that I am coming back. Ryan has told me that he sits by the front door waiting for me to come home - this breaks my heart!
After work, the ugly step sister (aka moi) hitched a ride with Stacey, Jordan, Brendan and Steve and boy oh boy was it different to the usual car rides that I have had! Conversation was mainly kept to your regular, polite topics of bum holes, farts, poop, "Sausages" etc. It was amusing as everyone knows that I love a good bum joke!
Here is a photo of us being a "Double Sausage Sandwich"...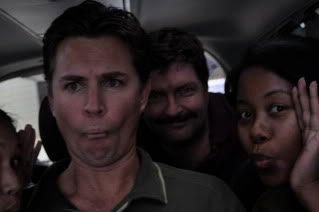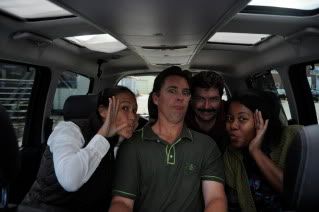 I felt bad for our poor driver as his wife called on the ride back and it was on speaker. The poor man kept trying to tell her that he would call her back later, but I think that she lingered on the line as she was confused, concerned, amused, shocked, intrigued by what the hell was going on in that car!
The silliness continued into the hotel...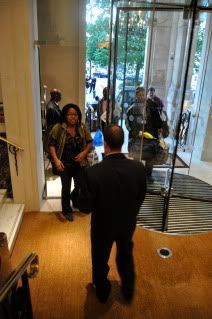 and up the elevator...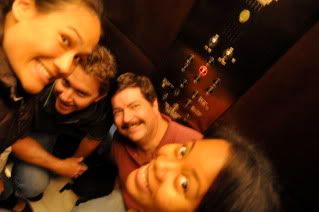 Then it was off to dinner with Carlo and Stacey. We found this cute little square and a quaint Italian place. Food was nice...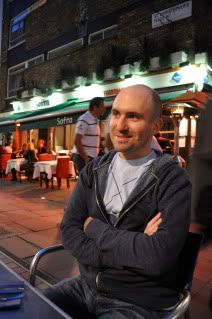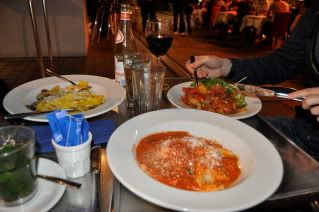 and we had our own in house entertainment/ soap opera as the couple at the adjacent table were either mentally unstable, drunk or on a lot of drugs (perhaps all three) as one minute they would be erupting in laughter and the next hysterically sobbing on each others shoulders...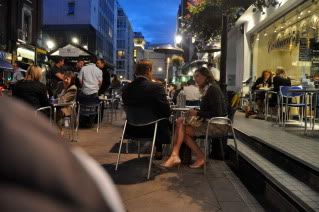 Carlo thinks that we may have been on a hidden camera show!
Off to bed for now as it is almost midnight and I have just discovered that the hotel will bring up hot water bottles! Strange thing to want in summer, but it was beyond freezing tonight and I think that I may have frostbite (and even gangrene) on all my toes!
I miss my LA sunshine :(