with excitement but cant show or tell??!! WHYYYYYYY
Would love nothing more than to open my big mouth and describe and show you what the sets are like but I cant - aghhhhhh!
So instead, I will show you photos from the "best bakery in London" (according to Chris' driver Mick) and I think that he may be right as it was DELICIOUS! Not one to be shy about a good feed, I treated myself to both a chocolate croissant and a blueberry muffin. Both of which I washed down with an Earl Grey tea - yum yum!
sorry about the crap out of focus pic - I was running (which is a challenge in it's self for me) because Mick was waiting in the car...

It was then a long, arduous ride out to Cardington (sigh) - having said that, with the knowledge that I would be coming right back to London after wrap, I all of a sudden realized that the drive is gorgeous and the scenery quite something...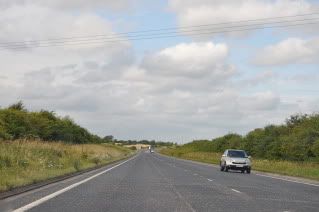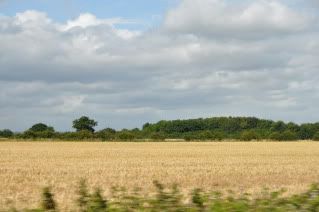 We took a different route than usual, so the road leading to the set made the hangers on the horizon look quite dramatic.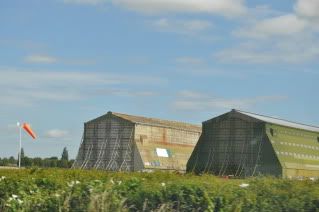 As promised I took photos of the "ugly step sister" hanger...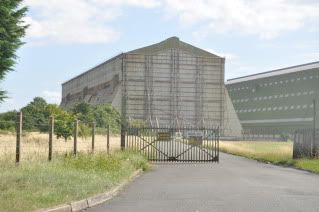 My favorite though, are all the "Danger" and "Explosion Test Site" signs that are everywhere!!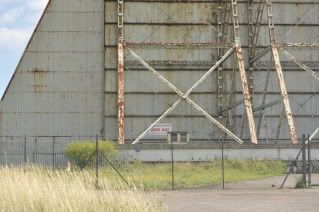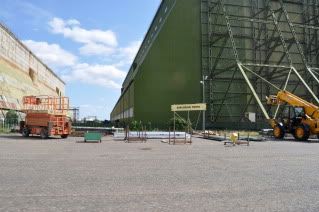 At work it was ----------------------- (cant tell you but VERY EXCITING)
Visual effects were working hard as one can see from Mike Chambers in this pic...
He he he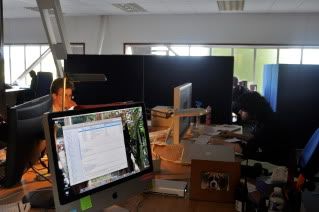 Actually, in the new office set up in Cardington, Visual Effects is right next to me and it is nice to have people to chat with. Let me introduce you to
Rich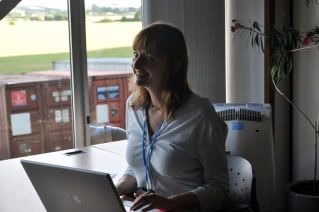 Tibbs (though Tibbs in not on VFX - she is our coordinator!).
What is funny about these makeshift office here at "The Farm" (as all the "cool" kids call it), is that they kind of look like observations rooms in a jail or zoo...
Jeff
Jordan
Being the nerd that I am, I often like to hand them bananas or do the "look, I am going down a flight of stairs" outside their windows - I am sure that it is getting old!
It was then back to the Oasis - I was spoiled and was driven home in a brand new Mercedes S class all to my very self. We left 15 mins after Harry and Steve's van, but we made it back at the same time!!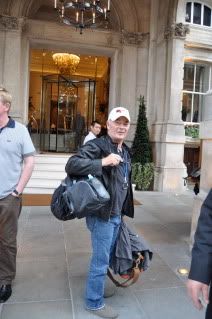 I think Steve was sad that he did not get to ride in style like me!
I then had a few minutes before being joined my work husband for dinner. We totted off to none other than the Mediterranean place that I am ever so slightly obsessed with. I veered from my usual "Halloume (sp) wrap" and was disappointed, but it was nice to chat with Carlo and catch up. Another unfortunate was the family with kids - they were not particularly obnoxious but I kind of wanted to stab the little one with my fork - is that wrong?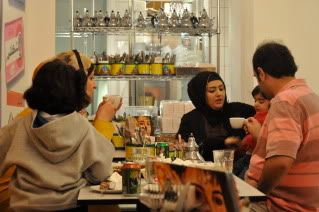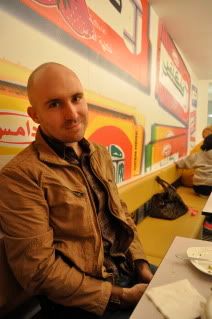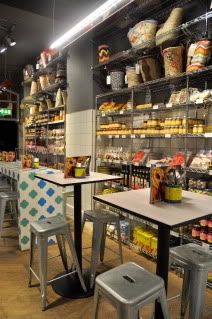 We then did our usual exploring - I love doing this with Carlo as he always knows how to get back to the Langham! We saw some great new places that we want to eat at, and I found a really cute clothing store that seemed to have great pieces at reasonable prices (now that they are on sale) - will have to check it out this weekend (there goes my per diem - eeek)!
Anyhow, amongst the gems that we discovered tonight was another clothing store... why their delightful pink ensenbles were on sale I have no idea (please for the love of god note the sarcasm!)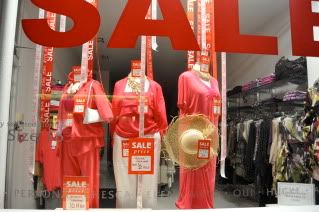 My favorite was that the pink sweatshirt that was on sale from £195 to the bargain basement price of £95 - WTF??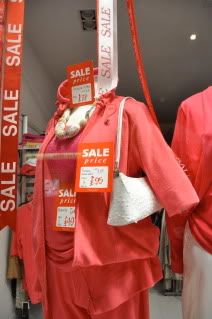 Also, Carlo noticed the hermaphrodite crotch on one of the mannequins, it was like it had a cardboard camel toe - perhaps another reason that their items were not flying off the shelves??!!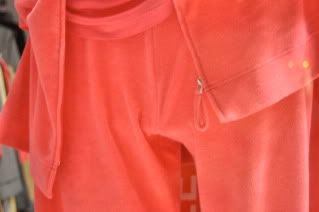 What I loved was their "new season" that was clearly marked as not on sale as it was new...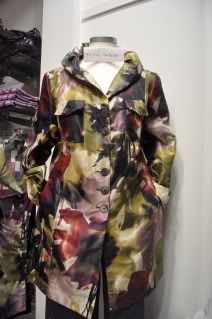 what a shame as I was really in the market for a gay pride/ Joseph and the Amazing Technicolor Raincoat mixed with acid vomit, tie die jacket... maybe it will go on sale eventually??!!
We then had a little look at real estate for sale and decided that we should pick out the house that we are going to buy when we win the lottery. Carlo found this really cute street called "Marylebone Mews" and decided that that was the place for him.
It was cute, and the little tunnel to get to the street was cute too - but once we were in there we realized that it was more office space than apartments and decided that we still have to find "the place" (all of a sudden the little cobblestone, dead end street made me think of Bill Sikes and that led me to think that I was going to beaten and raped... neither of which happened)..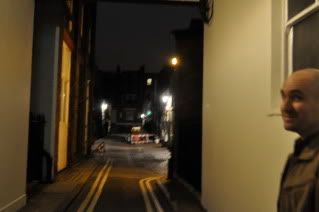 In any case, in true London fashion a torrential downpour then started to we hurried back to our temporary abode - the Lovely Langham... ahhhhhh