Ok well maybe not even sweet - just plain short!
I am exhausted and somewhat traumatized from last nights stay at the Swan (uukk)! Mind you, I am in no position to complain, as after hearing the battle stories of others, my porn obsessed neighbor, bi polar shower and lack of hairdryer in my room where eclipsed by others who did not have beds, shower heads, sheets etc!
I know that I had promised to muster the courage to take pics of the place, however the gods were looking favorably upon me for some reason and granted me my one and only wish - to escape hell (will explain in a bit)!
The day started off with the usual gray sky, and school bus ride to the center of the middle of nowhere...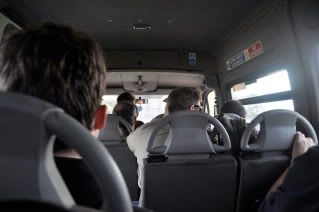 I must admit, that when we first pulled up to the giant thingys (not even sure what they are called but they used to be where they built blimps and hot air balloons), I was most impressed! THEY ARE HUGE (one of the 8 story batman sets still is on one end of the sound stage we are using!!).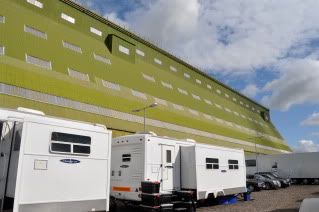 The green one is the one that we are shooting in. Will take photos of its ugly twin tomorrow as that one is rusty, about to fall down and surrounded by barbed wire that states "Danger Keep out", "Bomb Testing sight" etc - the mind boggles!
I was then able to check out "home away from home" office for the next few months...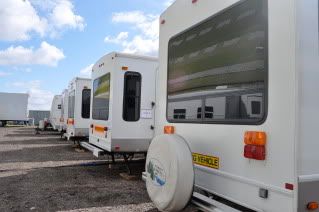 The trailer was actually really nice - quite roomy which is good. I guess that "someone" was jealous of our trailer and has asked to get the same one (apparently we have a bigger TV??!!)!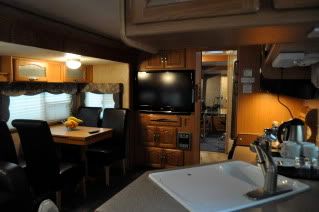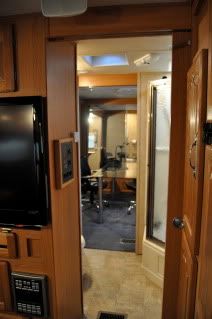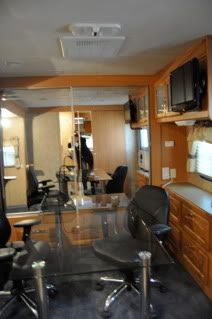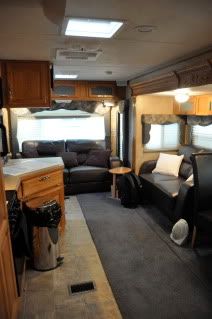 Apart from that I have very little to report, as I am not allowed to shoot on set and I cannot tell you about the movie!
The good news came later in the afternoon when Chris asked me if I would mind going back to London a night early to help his family settle in! I think that I was in the car, ready to go back before the end of his sentence hit his lips! I was out of there at 3:30pm and back at my Mini Oasis and "Spa-ya" by 5:30pm where I continued to work from my luxurious bed!! Sadly I have to go back up to Cardington tomorrow, but at least I will not have to stay the night - still not sure how I am going to survive when we move up there for 3 weeks... aghhhhhhhhhh!!!
Lastly, I want to leave you with some cute photos that Monette has taken and wanted to share! She has fully taken on board the use of "Uukk" and sent me the following photo that definately warrents a BIG FAT Uuuukkkkkkk....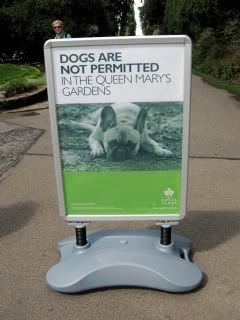 and then something that is totally NOT Uukk!
Fell free to send reader submissions!