I am having mild anxiety about leaving - thought that I would be ok, but looking at the Pig in bed this morning snuggling with his sock monkey really made me sad. The longest that I have been away from his is 2 days. This is going to be 2 months??!!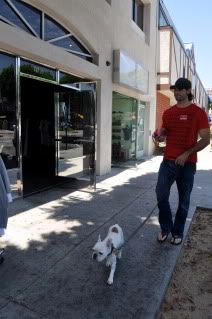 Anyhow, we made one last pilgrimage to Larchmont yesterday in an attempt to exchange some bling into Pounds. I have since found out that Chase does not do this, Bank of America does but only for members and when I went to Wells Fargo I almost vomited from nausea due to the fact that the banker stated "ohhh we are fresh out of pounds but we have some ounces" and proceeded to laugh for what seemed like eternity - agh!
Anyhow, Little Pig was happy as all his treat sports were open.
First stop - The News Stand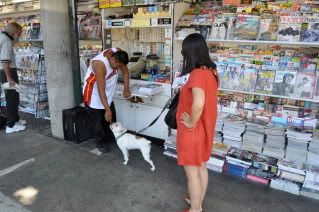 Second stop - Chevaliers book Shop (this GREAT little book shop that has been open forever, run by some great locals who just happen to be in LOVE with the pig and shower him with love and treats when he goes in - he is being featured on their blog soon so will post the link)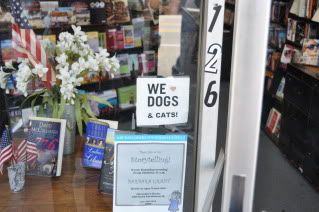 Third stop - The Barking Lot (where the pig gets his favorite "Peperoni Sticks")
I also busted out the old lady in me and tried to use my change to pay for them (sadly it took longer to count that most 5 year olds)...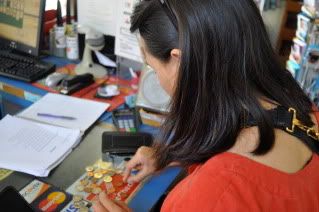 Then it was back home to finish packing.
This is the reason for my anxiety...
How can I leave this for 2 months??