This is something that has been puzzling Carlo and I since Saturday when it dawned on us that the smallest note here in the UK is £5. Does one tip £5? If so then why the hell am I not stripping after work? Well I posed the questions to the UK production office today and will share their pearls of wisdom for those other curious folks out there whom are too shy to find out...
1. If you go to a classy joint then "yes" one does tip £5 notes
2. If you go to a "local"/ "janky" joint, then they come around with either a pint glass or a jam jar in which one can put anything from 1 pence to £2 coins...
Carlo and I found option 2 to be hilarious - a jam jar? Really?
Anyhow, today was day 2 in the same location. This great empty warehouse that I thought would make a killer loft conversion...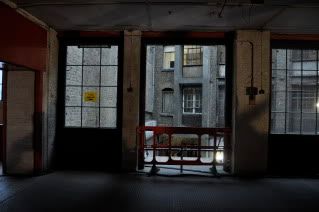 We all ate breakfast in one of the rooms that was used in the last Batman movie as the jail cell for the Joker...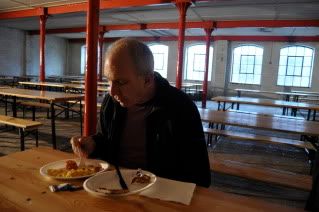 Ok, enough about work that I cant talk about!
Sadly this is my last night at the luxurious Langham hotel. No more heated marble floors, complimentary toiletries, clean sheets, night lights, views, newspapers etc as we are being shipped off to Cardington tomorrow (uukk). Therefore, Carlo and I went out for our last supper before our temporary separation (I seem to be going through a lot of these on this movie).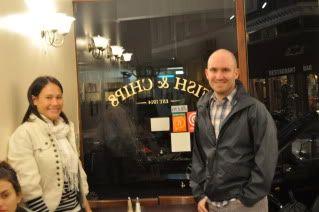 I chose this cute little Fish and Chip shop around the corner that is run by this really cute Greek family (I use the word "cute" way to much!). The food was really mediocre, but the people watching was worth it!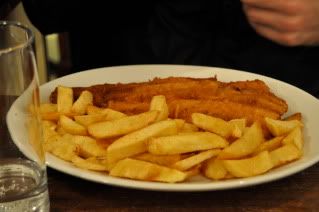 My favorite part of the dining experience was the fact that the owner of the restaurant was obsessed with his windex (I guess a true stereotype after all). He convenient left his trusted windex bottle right behind Carlo who burst into laughter when I pointed it out to him!!
They also had "Spotted Dick" on the menu - I thought that it was going to be something really nasty and was going to order it for Carlo, but alas it was just pudding with raisins in it (zzzzzzzzzz), so we skipped it!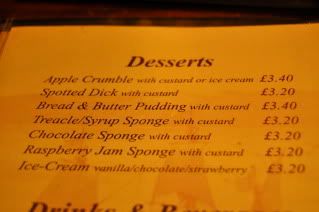 On our walk around the neighbourhood, we met many cute dogs that made me miss my Little Pig...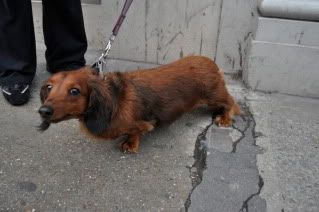 We also walked by this great local pub where everyone gatherers in the evening to sing around the piano - SO CUTE!!