Well well well - it was my last day of freedom today and what better way to spend it than a trip to Notting Hill to see my cousin Adam and his wife Marion.
It was actually Sunny today, so instead of dressing like a granola lesbian, I busted out one of my sundresses. Funnily enough, Carlo must have gotten used to my outdoorsy look as he said, "you look really dressed up today" until I reminded him that this is indeed what I look like normally (which he then remembered and began to laugh at)... sigh.
Anyhow, we took the tube over to see them and had a lovely brunch at this great local pub.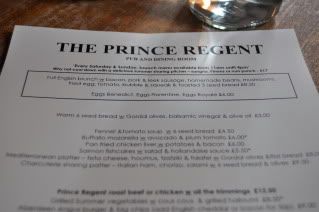 Carlo finally got to have his traditional English breakfast.
I went with cous cous and grilled Halume cheese (this seems to be a local favorite)
and Adam went with the Mediterranean platter and Marion with the Tomato, mozzarella salad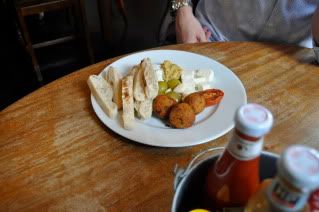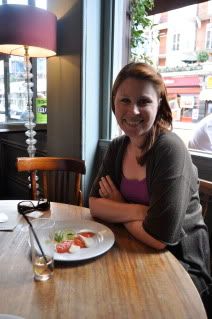 All was delicious and in a very cute setting...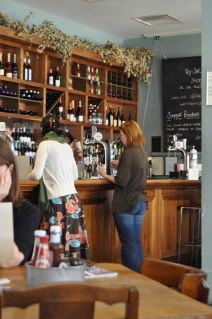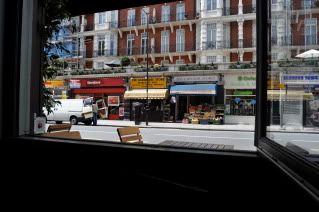 After lunch, Adam and Marion took us to Whole Foods - seems stupid to have come all the way from America to simply shop at one of our supermarkets, but we were in dire need of some good produce and yummy food. Whole foods did the trick indeed and we all left most satisfied!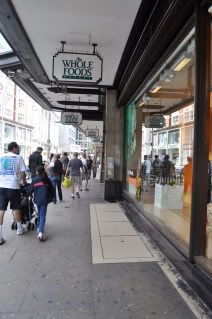 It was then back to the Langham to pack to leave for Cardington. I will only be gone 2 nights, so it did not take long and soon I was outside waiting for our bus along with most of the crew.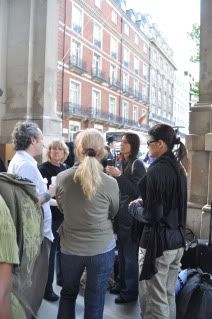 The scene reminded me of going away for a school trip!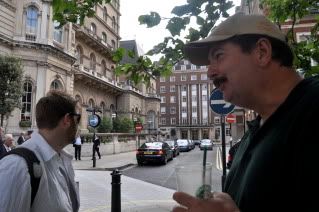 Once at the "Swan Hotel" my worst nightmares were soon discovered. All the stories and tales that people had been telling about this place were in fact true (aggghhhhh or should I say "uukkk"!!). Not only that, the man/ woman across the hall from me has a porn fetish and has been watching it loud and proud since I have arrived here (Uukk) - sadly, this was the same situation I was in last night at the Langham where my neighbors on both sides decided to have sex at various intervals throughout the night. Loud and sloppy to the point where around 5am I had to bang on the walls to make them stop (hate to break up party and all, but sista had to get SOME rest!).
Anyhow, I need to get over the shock of this motel 6 (I mean Swan) hotel before I can take photos of it - perhaps tomorrow I will have the strength!
For now, I leave you with photos from a lovely dinner we had at a local Indian restaurant...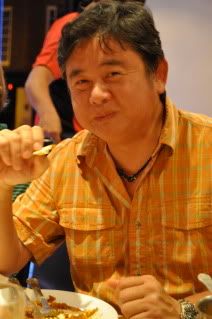 Harry Lu ordered a dish that was so spicy that the small dollop that I tried was enough to turn me into a major sweaty betty for the remainder of the meal! How he managed to eat it, I am not sure!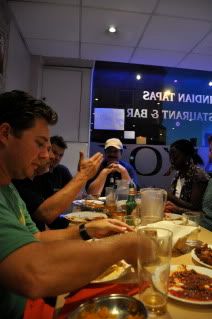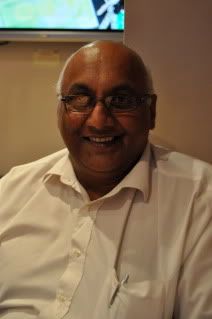 The owner was really sweet and even put Harry's name up on the wall of fame (though Harry told him his names was J.P Morgan or something along those lines??!!). All in all it was fun, but sad to have to retire to what I can only describe as the Harry Potter castle on 1980's crack with a dash of Motel 6 and a pinch of trailer trash...