Sorry for not posting last night - if you had lived the night that Carlo and I did you would understand why I did not...
Anyhow, the day got off to a great start yesterday when Carlo and I decided to go and have a nice breakfast at the "Best Bakery in London". I had scrambled eggs and Carlo went with Oatmeal - both were great...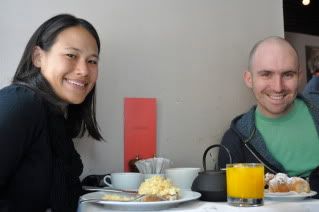 We then decided to go and take a look at some stores. On the way we found a street named after one of our favorite people on the movie - Hallam...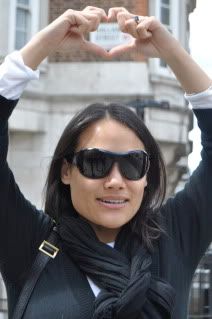 First stop was this pharmacy, health food store, spa thingy place... It had lots of fun and cool things, but we got in trouble for taking photos so the fun was brought to a quick stop - but not before we snapped this pic of me in what I thought was a gimp hat, but indeed was a hat for migraines...
Then it was off to our favorite supermarket "Waitrose" where we stocked up on fruit and snacks...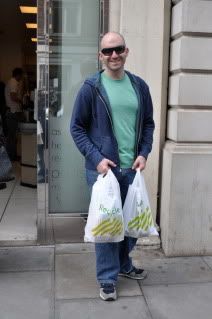 We saw this really cute dog there that we wanted to clone and bring home with us!
We have also both become slightly addicted to nectarines - yum yum
Last but not least we went to this store called "Comptoir Des Cotonniers". I loved all the clothes they had and put Carlo through sitting through me model it all. Sadly they did not have most things in my size (bummer because there was this GREAT jacket, but it was just too big)... however I did get this great, knit sweater/dress only to realize that I have almost the exact same thing already!!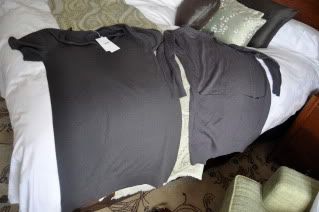 It was back to the Langham then to book tickets to see a show. We were wanting to see a piece of theater, but everything seemed to be sold out (what recession!) so we went in the opposite direction and got tickets to see "Avenue Q" (a musical with puppets!). Carlo busted out his best creepy, pedophile grandpa outfit for the occasion...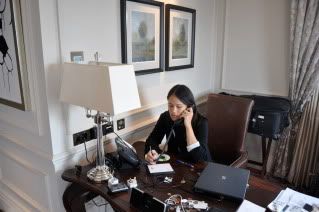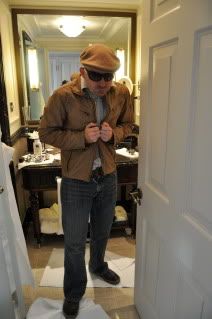 We had to leave early as we were buying tickets straight from the box office. Therefore we had ample time to do further exploring before the show started. Carlo noticed that all the lamp posts here in England are "Chanel"!!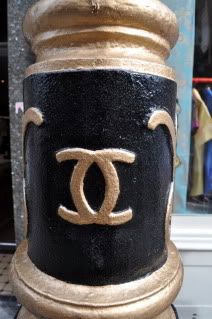 In Chinatown, I discovered that they have their own version of the hip club "Tiger Tiger"...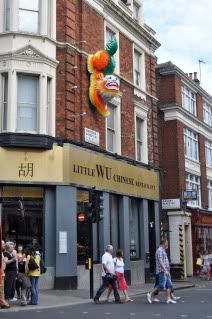 And their own version of a Churro...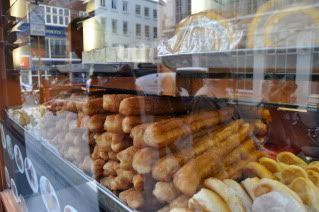 And their own hatred of photography??!! What is up with this country and not wanting you to take photos? Everyone is on CCTV all day every day so what do they care???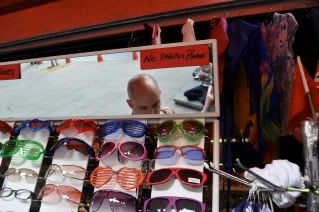 We saw another cute dog...
Tired on some cute clothes...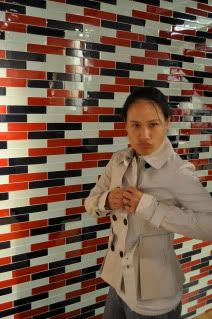 Laughed at store names...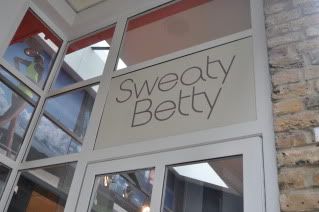 Laughed at the fact that in England, rain is no reason to eat inside...
Died laughing at the traveling public toilets that we had discovered on one of our first nights out...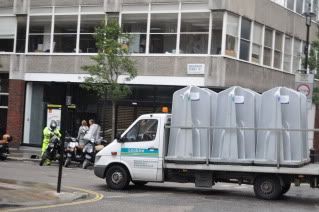 And then arrived at "Aurora" where we had decided to have dinner...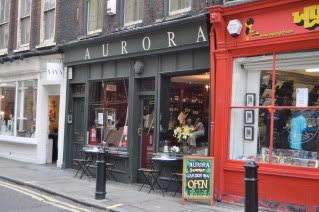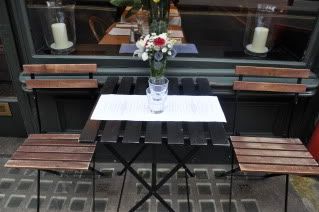 It was SO incredibly cute and hip. The food was DELICIOUS - such great flavors and the ambiance was fantastic...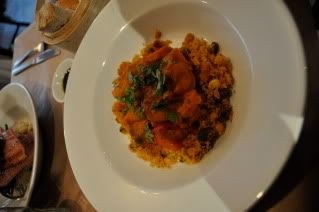 Then it was almost time for the show. We ventured on over there and decided to get a coffee. There were a bunch of tourists coming out of "Grease" with "Pink Ladies" jackets on and we were mortified, thinking that they were American tourists putting us to shame. It was at the same time that I exclaimed "Hey look a Starbucks - yay". Carlo and I then looked at each other and though we are just as bad as those "Pink Ladies" and therefore decided to get out coffee from "Costa" that was a few stores down!
Their coffee was pretty crap and their receipt was HUGE...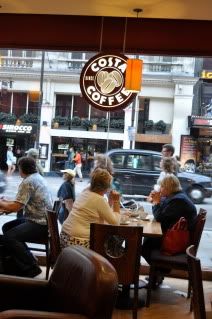 Carlo took a photo of me drinking my UK coffee under the Starbucks sign... he he he
It was then off to the show.
The show was funny, but not mind blowing. We had great seats (front row balcony), but something was a little off kilter...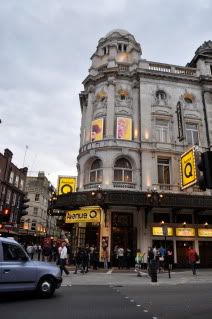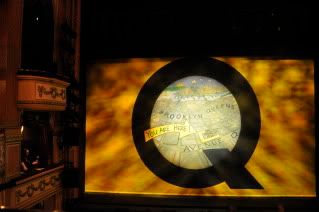 Anyhow, we then decided to go to a really great pub near our hotel that has a piano player and locals that sing the night away. Unfortunately it was closed (on a Saturday night??!!). Therefore we went down the street to another place that we have been meaning to try out...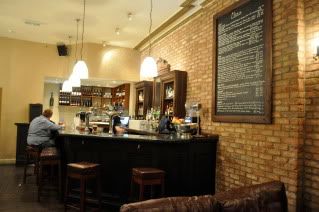 Carlo and I had a few drinks (not enough) and then tramped back home - but not before I snapped this pic of Carlo by the "mystery" door at the entrance of the Langham. We are convinced that they keep sex slaves in there...